Grow Your Tea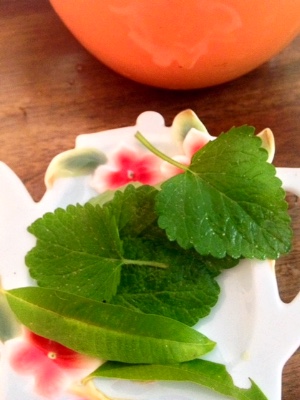 After spending $5.99 on a box of herbal tea, I decided it was time to grow a tea garden. Instead of driving to the store and purchasing processed and packaged herbs, I could grow my own. I began planting herbs all around my yard, tucked into corners, along pathways, in garden beds and containers… and so far, it's been an aromatic and rewarding experience!
Growing a tea garden saves you money and expands your plant palette and knowledge. Plus, your tea is fresh, local, and saves resources by not being packaged in cotton, food grade plastic, paper, or silk bags. Many herbs are not high maintenance, and some, like chamomile, even like to be neglected. Growing herbs adds beauty to your life, attracts pollinators, and will bring out the herbalist in you.
I started with Tulsi, also known as Holy Basil, one of my favorite plants and teas. Tulsi is easy to grow and has a unique and delicious, almost licorice-like, flavor. A perennial and an important herb in Ayurvedic medicine, Tulsi is an adaptogen and can help relieve stress and anxiety.
Another favorite is Lemon Balm. Lemon Balm loves to be alive and spreads quite easily through the garden with little care. My first herb teacher told me that Lemon Balm tea is great for removing negativity and worry and is an excellent beverage for serving at stressful family get togethers. With a light lemony flavor, Balm makes a delicious hot or cold tea.
Lemon verbena is another hardy plant with a heavenly fragrance and taste. Verbena is good for your digestion and soothes tummy upsets. Feeling tired or down? Crush a leaf of Lemon Verbena, inhale its lovely scent, and see if your mood begins to lift.
Mints are an easy to grow herb that you can reproduce through cuttings in about seven days. I have Moroccan Mint, Lavender Mint, Spearmint, True Peppermint, Yerba Buena, and Bo He or Chinese Mentha gracing my garden. Each mint has its own flavor. I appreciate the variations in taste and use Mint leaves when I want a uplifting, digestive tea. On hot summer days, you can sip Mint tea while you soak in a Mint bath. Mint baths can cool you off and elevate your mood. Add 1 cup of dried Mint leaves to 1 quart water that was just boiled. Let the tea steep for at least 30 minutes. Then stain and add to your warm, not hot, bath water. (You can run more water through the mint leaves until it runs clear.) Move the tea around the tub so it's evenly distributed. Stay in the bath at least 20 minutes. It's exhilarating and wonderful.
Other herbal teas to try? Lemon Thyme makes a wonderful drink. Lime Balm has a delicate lime scent. Basil can make a refreshing tea or lemonade. Chamomile is a digestive, excellent for soothing your stomach.
Need some caffeine? Although I haven't grown "real tea," (Camellia sinensis) I sometimes add my home grown herbs to my store-bought green or black tea.
How to make herbal teas? I take at least 1 tablespoon of leaves and pour boiling water over them. If I'm using roots, I simmer them on the stove for half an hour or more. I always cover the top of my cup or tea pot and let the tea steep for as long as possible. Then sit back, sip, and enjoy!
What plants grow around your house that you could use for tea? If you live in a urban area, without much green space, there may not be a lot of choices. But, it's quite easy to grow herbs on your windowsill, patio, or porch. When I lived in an apartment where I couldn't garden, I grew some of my favorite herbs in pots on our stairway.
A lot of these herbs can be grown from cuttings- so if you have a friend who has a plant you love, ask for a cutting and watch your abundant herbal tea garden grow!
*Remember to make sure that you have identified plants correctly before you use or ingest them. Check with your health care practitioner before taking any herbal medicine.