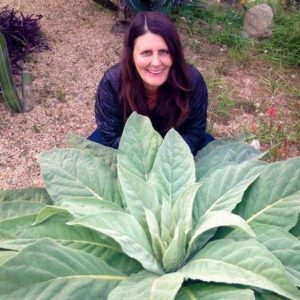 Since 2004, Sustainable World Radio producer and host Jill Cloutier has produced radio shows, podcasts, and videos about the natural world and solutions that benefit both people and planet.
My two podcasts Sustainable World Radio and The Plant Report: Every Plant Has A Story bring you interviews and news about ecology, soil, ethnobotany, herbal medicine, Permaculture, organic gardening, sustainability, natural building, and regenerative farming. My podcasts focus on nature, especially plants. I'm a huge fan of the botanical world that surrounds us and offers us food, fiber, medicine, inspiration, beauty, oxygen…. and along with all that, a solution to climate change.
I love interviewing experts from around the globe; teachers, designers, environmentalists, and earth activists who learn from and work with Nature. Sustainable World Radio started on my local community radio station, KCSB FM, and can now be heard online and on radio stations around the world. Tune in to discover practical, earth-friendly, and nature-based solutions that can lead us to a better world. I hope you enjoy listening.
My podcast The Plant Report: Every Plant Has A Story is about the wonderful world of plants. Each episode highlights one plant. I talk about its uses, how it grows, and some of its story. I'm really excited about The Plant Report because I am Plant Happy!!
Here's a short bio:
Jill Cloutier is a radio producer, video-maker, environmental educator, writer, and PR Director of an environmental education and arts nonprofit. I've been producing Sustainable World Radio for a long time… back when people, after hearing the name of the podcast would say, "Perma-What!?"
After surviving my early 20's and a short stint as a militant vegan and a Voice of Doom, "Worldwatch Institute says we have only 8 years left on the planet,"  I realized that it's much more fun to educate about solutions rather than through guilt, fear, and gloom.
A Permaculture Design Course Graduate, I believe that Permaculture provides solutions to many of the problems facing us today. The Permaculture ethics sum up my approach to life: 'Care for the Earth. Care for each other. Share the surplus.'
As an Environmental Educator I taught classes on Healthy Watersheds, Composting, and Waste Reduction.  One of my best days as an educator was when I received a thank you card from a second grader that said, "Dear Watershed Jill, Thank you for teaching me how it feels to take care of the Earth."
I was the co-founder of Kale, Not Jail, a gardening program at the Santa Barbara Juvenile Hall where I grew organic plants with kids on probation and co-founder of the Santa Barbara Laughing Club where I loved to laugh away all of the stress caused by my constant worrying about the environment!
When I'm not working my day job as PR Director for Explore Ecology, an environmental education and arts nonprofit, you can find me in the garden,  concocting herbal remedies, creating hydrosols with a funky homemade still, or dyeing clothes with natural plant dyes. My latest project is The Santa Barbara Herbal Exchange, a community gathering and botanical skill share for medicinal herb and plant enthusiasts.
I'm a graduate of the University of California, Santa Barbara. I also studied Film Production and Environmental Horticulture at Santa Barbara City College.
You can contact me by emailing Jill (at) SustainableWorldRadio.com.